As all our R series hydraulic presses, this is equipped with a mechanized lower and upper CK-42 stainless steel table with two "T" DIN-650 grooves.
The highlight adaptations are:
Hydraulic cushion of 25Tn of power output placed in the bottom table with 12 candles
Hydraulic ejector of 2Tn with a lift of 25mm in the upper table
Aproximation speed of 100 mm/sec
Working speed: 12 mm/sec
Return speed: 160 mm/sec
Working press: 235 bar
Structure and tables
Sturdy construction with closed sides.
Upper table with four guides Ø 50 mm with bimetallic antifriction sockets of maintenance free.
Upper and lower tables with machined " T" slots of M16 x 18
Cylinder and hydraulic unit
Main Cylinder of single acting with 130 tons includes pre -filled valve.
2 side cylinders for approach and quick return.
Cojín hidráulico alojado en la mesa inferior con 12 velas de Ø 30
Hydraulic cushion placed at the lower table with 12 candles Ø 30
Hydraulic ejector of 2 tons and a stroke of 25 mm placed at the upper table
Hydraulic unit located on the top rear.

DENISON-PARKER pump.
REXROTH pressure and manoeuvre electro valves
Gauges tonnes.
Front pressure regulator
Pressure regulator for the cushion.
Air-oil cooler.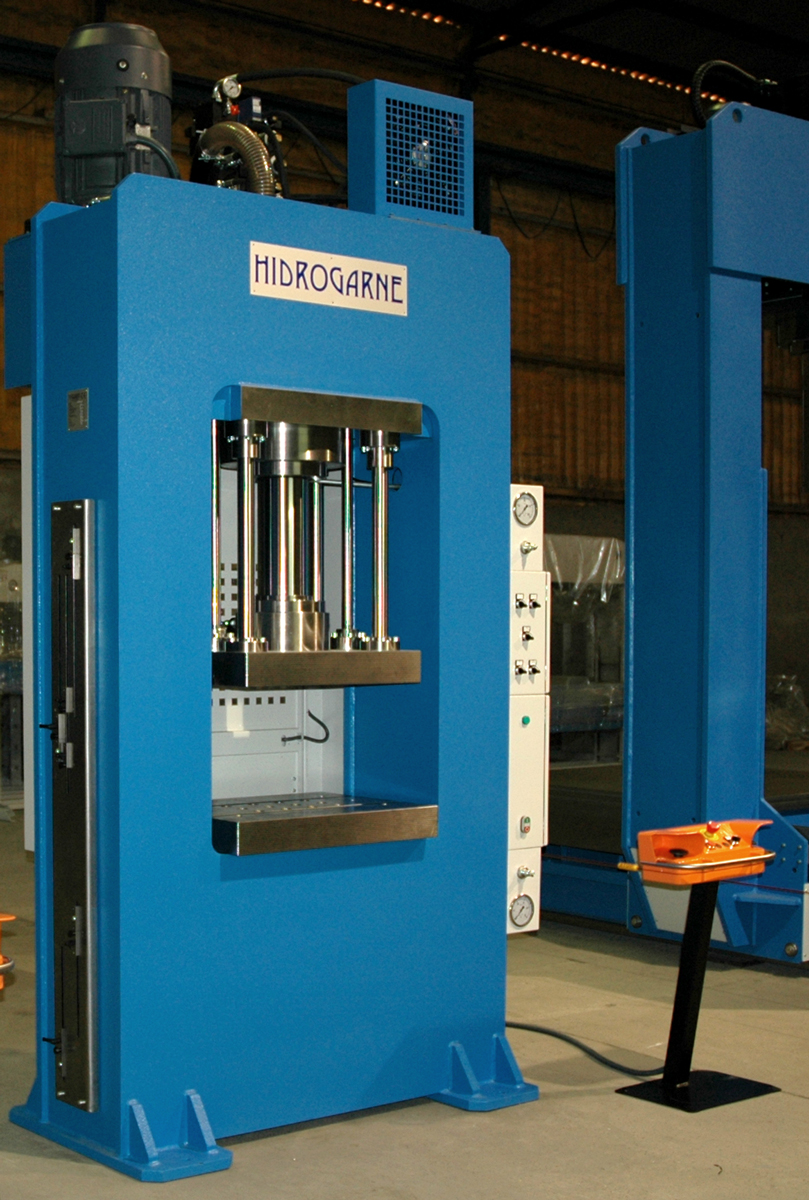 Electric installation and safety
Electric panel located on the right side.
Limit switches located on the Left Side
Three adjustable strokes ending for the upper table, two to adjust the table stroke and one to change the speed.
Two stroke endings for the cushion, 2 limit switches in the pad, to forward and reverse.
Pressure switch for end of cycle.
Selector 1 or 2 speeds.
Selector for manual or automatic cycle.
Selector for the annulment of the hydraulic cushion.
Selector for the annulment of the hydraulic ejector.
Security module for bimanual and emergency stop.
Reset button.
Emergency stop type "Z" with latching
Back protections with security opening
Technical features
Power 130 Tn.
Power 130 Tn
Maximum light between tables 700 mm
Cylinder stroke 350 mm
Dimensions lower table 750 x 550 mm
Dimensions upper table 650 X 500 mm
Frontal light 800 mm
Main cylinder

Approach speed 110 mm./seg.
Working speed 12 mm./seg.
Return speed 160 mm./seg.
Working pressure 256 Bar

Cojín

Power 25 Tn.
Diameter candles/ # candles Ø 30 MM / 6
Ejector cushion 250 mm.
Maximum pressure of cushion 160 Bar

Grupo hidráulico

Decompression by timed valve
Safety block anti-fall.
Suction filter and return.
Oil level with thermometer.
Denison silent pump
Motor power 15 KW
Total oil capacity 150 L
Working height 950mm
Weight 3.950Kg
More information